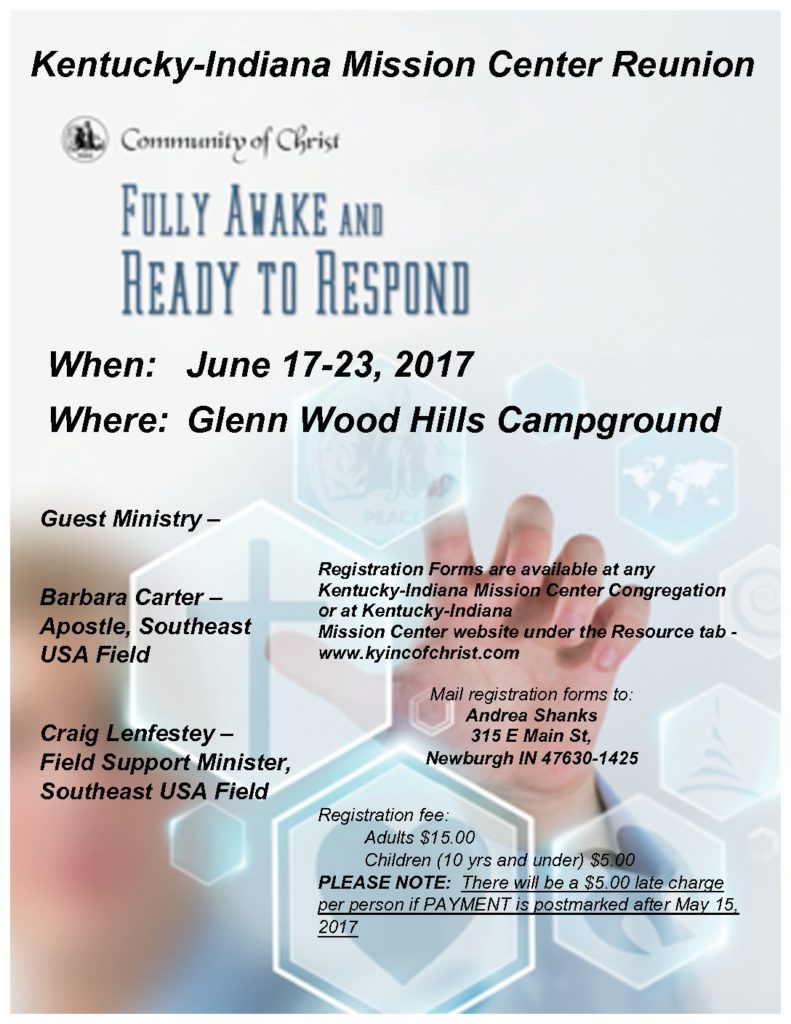 Reunion at Glenn Wood Hills
June 17-23
Guest Ministry:
Barbara Carter – Apostle, Southeast USA Field
Craig Lenfestestey – Field Support Minister, Southeast USA Field
Registration Form:
Download here
We have filled all the spots on the Reunion team – WOO HOO!!  But please if you did not volunteer to be on the team, there will be plenty of opportunities for you to help with the different ministries throughout the week.  Yes, all the 'jobs' at Reunion are different forms of ministry.  Here is a list of the team members and which team they are leading.  Reach out to them if you want to help.
Worship Coordinator – Karen Cash Mercer
Kitchen Coordinator – David Shanks
Children's Ministry – Cindy Oxley
Recreational Leader – Joe Oxley
Business Manager – Andrea Shanks
Maintenance – David Maymon
Equipment – Eric Mercer
Fully Awake and Ready to Respond
Community of Christ members and friends often gather together in fellowship and learning experiences called reunions or family camps. In this relaxed and casual atmosphere, participants share the Enduring Principle, Blessings of Community.
2017 Reunion Themes
Awaken to God's Invitation
Awaken to Spiritual Transformation
Awaken to Unfolding Mission
Awaken to Sacramental Living
Awaken to Living Sanctuary
Focus Scripture Passages
Doctrine and Covenants 156:3,4, 5a-e; 158:11c; 161:2a, 5; 162:2; 163:1, 8a-c
Additional scripture texts: Luke 7:44-47, Acts 1:8, Luke 24:48; Doctrine and Covenants 38:7b-c, 92:2a-b; Ephesians 2:21-22
Mission Prayer
God, where will your Spirit lead today?
Help me be fully awake and ready to respond.
Grant me courage to risk something new
and become a blessing of your love and peace.
Amen.
I am also attaching a registration form.  You will notice on the flyer and the registration form Andrea Shank's name and address.  Please send the registration and check to her. Remember, if you register before May 15 you save $5 per person.  Also, housing is 'first come, first serve'.
We are so excited to have Apostle Barb Carter with us this year.  We also have our Field Support Minister, Craig Lenfestey joining us.  Should be a great time.
I am looking forward to seeing as many of you as can attend.  This is a great 'family camp' sharing in fellowship and worship for a week.  Come get 'unplugged' from the hassle of your daily life and enjoy!!!!
OH – do not worry if you cannot print either of these documents.  Your pastor has some paper copies or if you let me know I will mail you a copy.
Please fee free to contact me with questions.